I blind tasted 12 VODKAS and this is what I learned
2 min read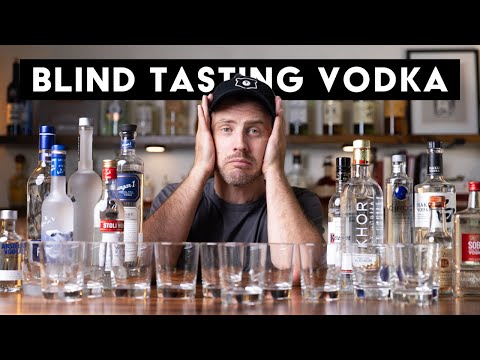 Use code ANDERS50 to get 50% off your first Factor box at https://bit.ly/3jpRzkf
Today we're blind tasting 12 vodkas! I've never been a big fan of vodkas. The cheap stuff usually taste like acetone, while the subtle flavors of the top shelf bottles get lost in cocktails. But because some of you have told me to give vodka a chance, that's what we're going to do. I've grabbed some different styles of vodkas that were made around the world to see what, if any, the differences are. Once we've picked a winner and the least favorite, we'll mix them both in separate cosmos. Then we'll see if it really matters which vodka you're using in your drinks. Cheers!
Merch! 👉 https://exlsv.com/collections/anders-erickson
My bottle collection at Curiada 👉 https://bit.ly/spiritsbottlescocktails
New customers use code ERICKSON for $5 off!
Use code ANDERS for free shipping on orders over $200!
Bartender's Blend coffee ☕️ https://thatbarcoffee.com
My newsletter: https://anderserickson.com
Video/editing/illustrations by Azusa Inaba 🎥 🎨
TIME STAMPS
Intro: 0:00
Factor: 1:23
The Lineup: 2:25
Round 1: 4:00
Semifinalists: 8:58
Finalists: 9:44
Least Favorite: 11:25
The Cosmo Test: 12.23
Final Thoughts: 13:45
THE COSMOPOLITAN RECIPE 12:27
1.5 oz. (45 ml) Vodka
3/4 oz. (22.5 ml) Luxardo Triplum Triple Sec
1/2 oz. (15 ml) fresh lime juice
1/2 oz. (15 ml) cranberry juice
Expressed orange oil
Lime wheel for garnish
THE TOOLS
My workhorse double jigger: https://amzn.to/3lmmKrK
Bar spoon: https://amzn.to/3wkkDhg
My go-to large shaking tin: https://amzn.to/33vnMLJ
My go-to small cheater tin: https://amzn.to/3qecbe5
Hawthorne strainer: https://amzn.to/2VBUSWh
Fine mesh strainer: https://amzn.to/3mitomO
Hand juicer: https://amzn.to/3ioOwFeRubber
My citrus bottles: https://amzn.to/3BScssO
Rubber bar mat (6"x12"): https://amzn.to/3h2IJER
The coupe: https://amzn.to/378o4xk
As an Amazon Associate I earn from qualifying purchases. I get commissions for purchases made through links in this post.
Special thanks to our top-tier patrons:
Adam Greetis
Jacob Swain
Brandon Carey
Randy Calegari
Mike Russo
Matt Dougherty
Michael Cooney
Matthew Crowley
Kevin
Callum Evans
Dzomery
Derek Patstone
Rick Turoczy
Alex Rosenberg
Silverio
Al Gailey
Joshua Penley
Sheri Muilenburg
Antonio Moreno
Connie & Rob Chapin
Chris Roberts
Howard Pollack
Bruce Stark
Kevin Wildman
Brian Gordon
David Byrne
Nate
Randall Randall
Nick
Andreas Drath
Liana Kangas
Follow Me:
Instagram: https://www.instagram.com/anderserickson/
Twitter: https://twitter.com/anderserickson_
Facebook: https://www.facebook.com/andersericksoncocktails
Send stuff to:
Anders Erickson
4610 N. Clark St
Suite 1051
Chicago IL, 60640